Middle School & High School Youth Groups
7-8pm Monday | 7-8pm Thursday
Currently, Middle School Youth Group is held outside over the summer on Mondays from 7-8pm and High School Youth Group is held outside on Thursdays from 7-8pm. These relevant and engaging youth groups hold conversations, play games, and ultimately grow closer God and to each other. For more information:
jacob@grandviewdubuque.org
On Sundays and Wednesdays our Grand View Youth focus on worship, small groups discussion, learning, and application. But sometimes, youth just need to have fun. Our Child & Youth Faith Formation Coordinator Jacob Nastruz schedules fun events throughout the year to bring our youth together an have a good time.
The following activites are currently on hold – check back for more info.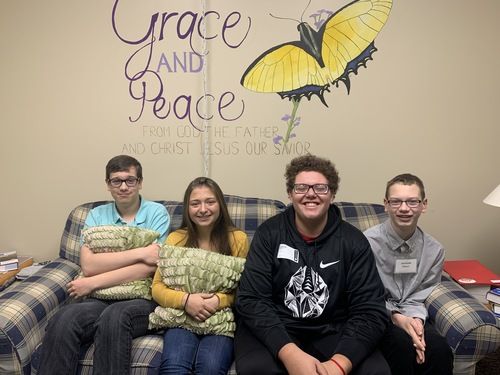 9:30 - 10:30am Sunday School
Sunday School is held August through May for PreK-12.
(Adult opportunities available.)
Our Grand View Youth learn from relatable, discipleship programming through video, discussion, Bible reading, and connecting to real-life situations.
6:30pm | During C.R.E.W. small groups
All of your family is invited to our C.R.E.W. family nights. Its simple - Eat a meal as a family (5:30pm), worship as the community (6pm), and break out into small groups by age level (6:30pm). At 6:30pm our GV Youth gather in the large worship space for a topical, Biblical lesson and then break into smaller groups by age and gender to discuss how this relates to their life.